AC-200A Air Conditioning Service Station for R134A Refrigerant
AC-200A Air Conditioning Service Station for R134A Refrigerant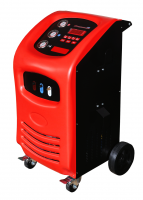 Specifications
Power Supply:AC110V 60Hz
Compressor:12cc
Vacuum Pump:4.5CFM,5Pa
Tank Electric Scale:30kg+_ 10g
Oil Bottie Electric Scale:6kg+_5g
Max. Working Pressure:20Bar/290Psi
Max.Tank Volume:12L
Display:LED(AC-200)
Note:
AC Series service station works with R12 or R134a only.
Features
Professional industrial design and excellent appearance.
Patented technology to ensure outstanding stability and reliability.
High standard modularized components to assure low failure rate.
Higher oil separation efficiency.
Universal graphic representation of operating interface.
Simple and convenient to maintain.
Recovery
Vacuum
Recharge
Refrigerant purifying
Recycling
Discharging used oil
Refilling new oil
Printer (Fully-auto model only)
Database (Fully-auto model only)
Flush cleaning (Model end with F only)
System alarm:
High-pressure, Low-pressure, Empty tank, Full tank, Empty new oil bottle, Full old oil bottle, Filter service, Vacuum pump service, Printer no paper, Printer abnomal.