AC-800 A/C Service Station for Bus/Coach R134A Refrigerant
AC-800 A/C Service Station for Bus/Coach R134A Refrigerant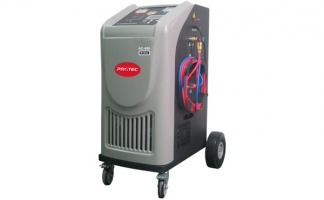 Specifications
Work with R134a refrigerant
Input power: AC110V±10%~60Hz
Compressor:3/8 HP.
Vacuum pump capacity:240L/min.
Recovery rate:99%, recovery to -0.5bar
Charge speed:2Kg/Min(max.)
Individualized drier-filter capacity:600ml
Accuracy of gas cylinder load cell:±10g
Accuracy of oil bottle load cell:±1g, three individual load cells for different oil bottle
Gas cylinder capacity:30L
New/used oil bottle capacity:250ml
LCD display:105.5*67.2mm,  480RGB x 272 Dots ,TFT full color
Dimensions:Package 950*705*1295mm;Unpacked machine 900*630*1105mm
High pressure gauge range:-1~40bar Low pressure gauge range:-1~22bar
Features
Automatic recovery/recycling.
Automatic discharging used oil/oil drain.
Automatic vacuum
Vacuum leak test available
Automatic new oil injection
Automatic recharging with onboard tank
Comprehensive A/C capacity database
Automatic protection programs and audible alarms
Onboard electronic scales
Built in Thermal printer