CL-455 Four post Lift
CL-455 Four post Lift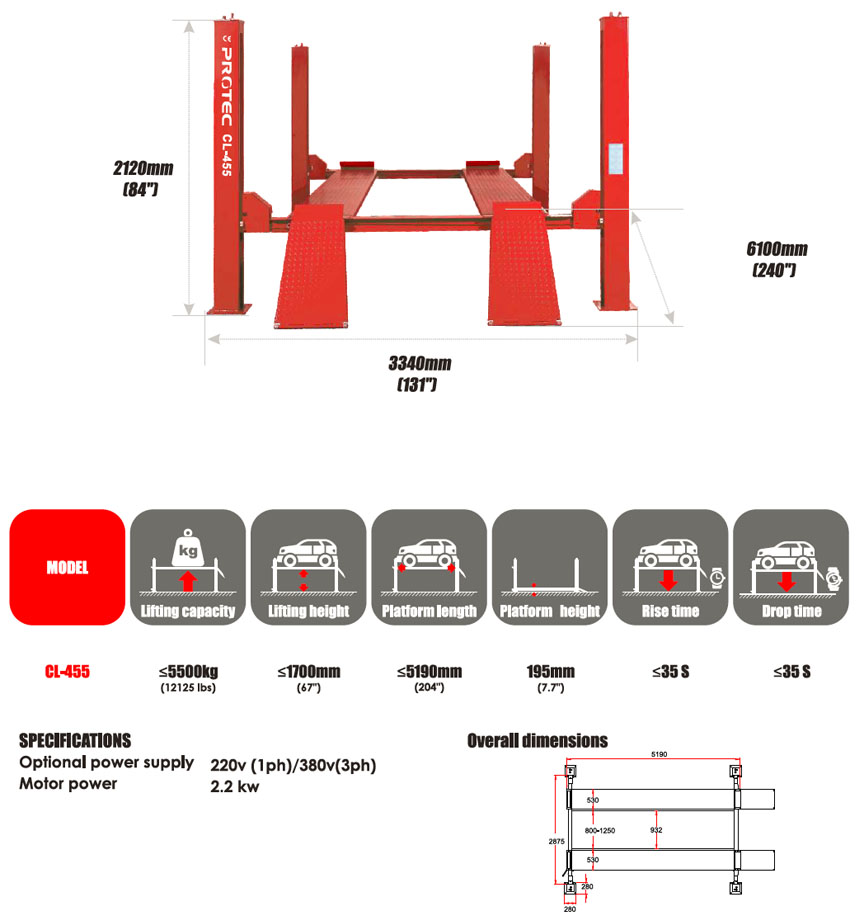 Specifications
| | | |
| --- | --- | --- |
| Optional power supply |   | 220v(1ph)/380v(3ph) |
| Motor power |   | 2.2kw |
| Lifting Capacity |   | ≤5500kg |
| Lifting Height |   | ≤1700mm |
| Platform Height |   | ≤195mm |
| Platform Length |   | ≤5190mm |
| Rise Time  |   | ≤35s |
| Drop Time  |   | ≤35s |
Features
. Electro-hydraulic lift, with hydraulic cylinder located under one of the platforms.
. Low profile platforms, with short drive-on ramps, can be for 195mm when 
fully lowered, requires less space.
. Each platform is the complete steel plate without splicing, no welding, ensures 
durability and planeness.
. With second lifting guide rail and equipped the secondary lifting trolley.
. Safety rack installed in each column. Mechanical lock engaged automatically in 
lifting process.
. Adjustable width between two platforms makes the lift more flexible for different 
vehicles.
. Low voltage control system are CSA approved.